The Carina Servers provide IoT, IP PBX and mass notification capabilities, allowing you to easily create a full VoIP communication system with all Wahsega endpoints. Provision and monitor of all your devices through a single dashboard.
Carina allows you to combine multiple building sensors into one dashboard to control building services and be alerted to equipment failures or issues.
Wahsega's line of PoE enabled IP Displays enable continuous time and date display but also allows for critical textual information to be scrolled on the display. The LED displays supports over 32,000 colors and vector font technology providing easy reading comprehension.
Indoor and outdoor IP intercoms designed for access control and playing alerts for additional coverage.
Multi-function speakers can act as two-way intercoms and provide power for up to two classrooms from one PoE port. Save up to 50% on installation costs for complete indoor coverage.
Multi-function outdoor speakers that produce crisp intelligible audio over great distances. There is a built-in LED flasher for alerts and a help station can be attached for emergencies that occur outside of the building.
Bridge the analog audio divide with these zone controllers so that even legacy analog speaker systems can receive Carina alerts and announcements.
Complete coverage for the same budget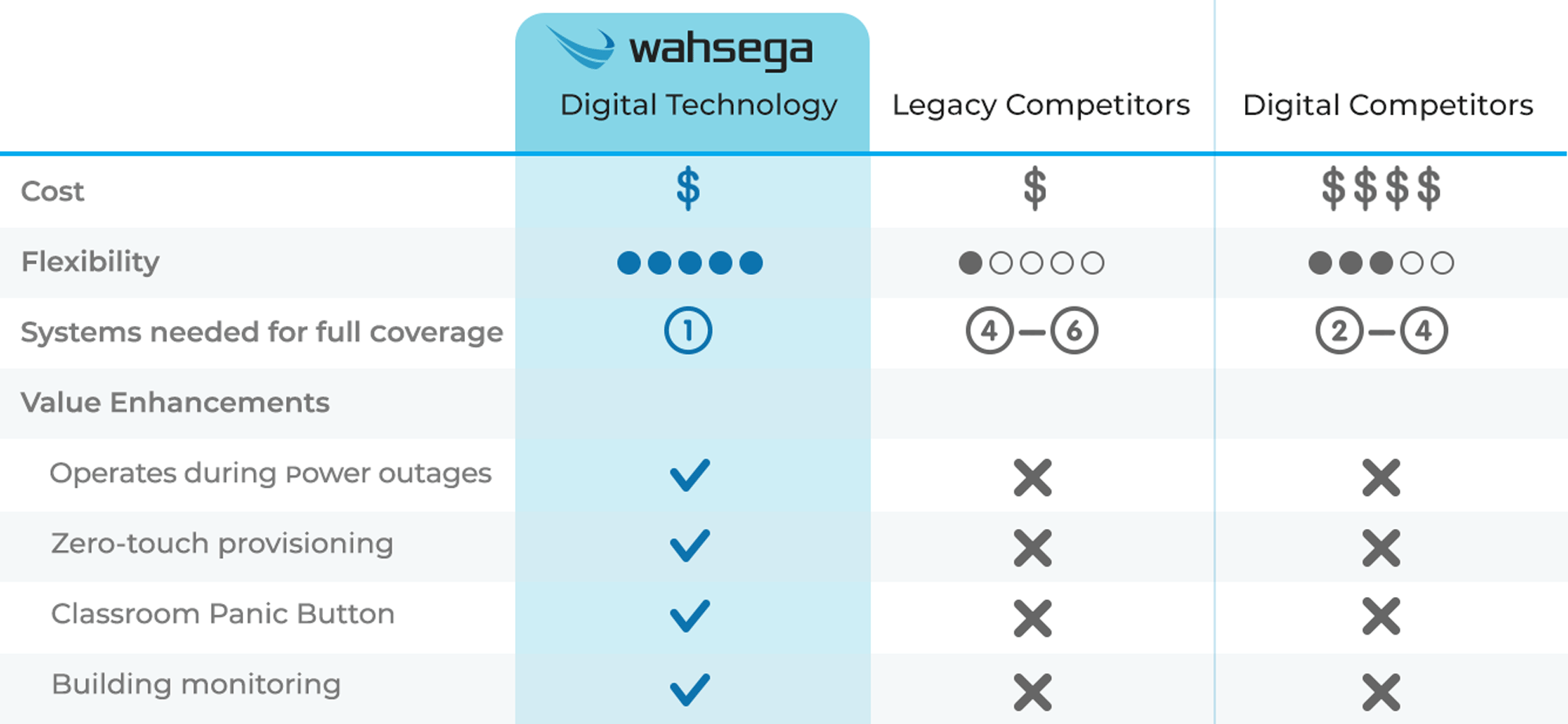 The Future of Building Safety
Don't get stuck in the past when your people are relying on you to create a safe environment for them day in and day out. The benefit of Carina is that you get a next generation mass notification system for less than the price of a legacy system.
Experience in all Industries
Education
Expanded reach for a fully connected campus without breaking your budget.
Healthcare
When there is no room for error, Carina keeps patients and staff safe.
Commercial
Protect your people and building, strengthen safety in the workplace, and improve day-to-day operations.
Industrial
Improve workplace safety, monitor people and your equipment. 
We work with the best people
Are you an integrator or reseller? Let's talk.